Edible Feast for RIPE 2014
RIPE 2014 is shaping up to be a tasty treat with chefs like Tyler Dallner and Nik Bunting, from Edible Canada, preparing a farm to table feast for the main course. Based on Edible Canada's philosophy of supporting Canada's finest artisans, farmers, brewers and foragers from Coast to Coast, Tyler and Nik will work with select Vancouver Famers Market vendors to prepare a farm fresh family style meal for RIPE 2014 attendees.
"Chef Tyler believes it takes love, hard work and careful attention to detail in order to make food taste exceptional and it shows in every dish he creates. Growing up, his mother would make wonderful meals around the dinner table each night. This family tradition inspired him from the beginning to value the whole experience of food from the garden to the table, and nurtured his passion for sharing this love of food among family and friends. Tyler is a strong believer in sustainable farming and getting back to the way we used to know food. Ancient farming techniques and foraging are evermore present in Tyler's everyday interests." – See more at: http://www.ediblecanada.com/about/team/#sthash.A5bjPToE.dpuf
The VFM crew are looking forward to what promises to be a scrumptious meal- what about you? Stay tuned for more updates on what and who to expect for this year's VFM annual feast and fundraising dinner- #RIPE2014.
Sunday, October 19th 4-8pm
Round House Community Centre
Early bird ticket price $65 available until Sept. 15th.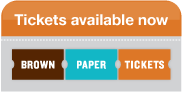 ---